Project Item: Tehran Iran Hotel
Products : Custom handrail Stainless steel Excellent surface finished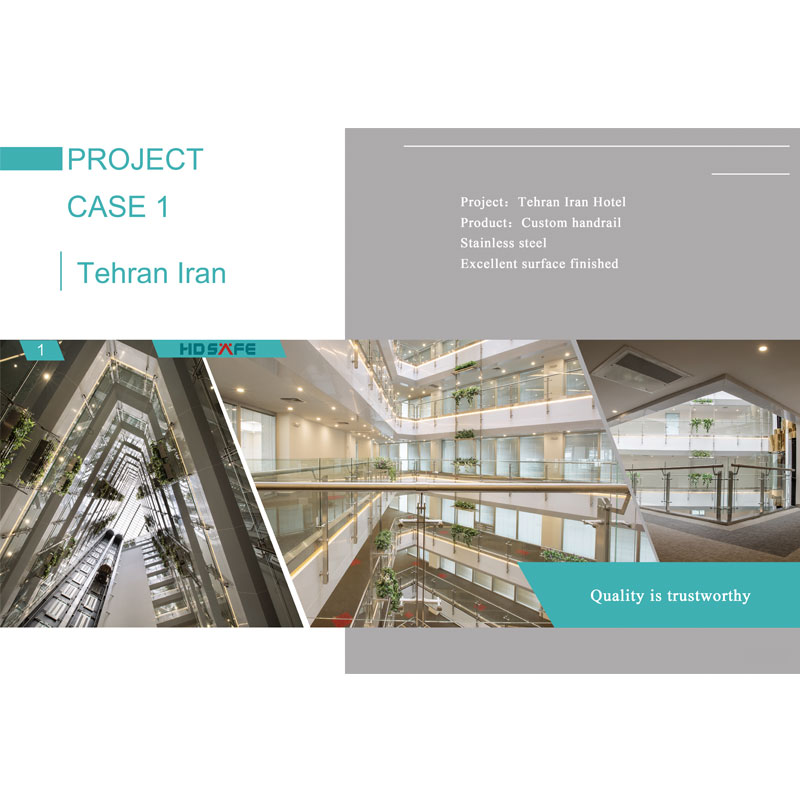 HDSAFE Hardware has been committed to creating high-quality modern architectural decoration hardware since its establishment.As a boutique manufacturer of architectural decoration hardware, Huadi relies on advanced production technology and strongR & D strength, continuous innovation in the use of functions, the introduction of very modern appearance design.
The design makes the product extremely usable. Beautiful appearance makes it a big part of life
Highlights. We have never stopped moving forward for a moment, to provide you with a better life enjoyment. Acceptance is our eternal pursuit.Seiko's gorgeous variety of handrailsFrom classical, modern, luxurious and simple, Huadi provides you with a variety of choices to meet your personalized design requirements.
Customized service

In addition to more than 800 styles, we can also produce innovative products suitable for you according to your requirements and combined with our technical standards. Our products are not only widely used in mainland China, Hong Kong, Macau, Taiwan, but also recognized in countries and regions outside China, and have achieved a good reputation. We can make a special design for you, from the development of the mold to the change of the processing technology, it is our responsibility to solve your difficulties.
HUADI's products are completely based on strict process procedures from the beginning of material selection. The staff strictly inspect the finished products as quality management experts, not only for the quality of the finished product style or processing, but also to improve the brand's reliability. Reputation.
The design of HUADI products is people-oriented, and a large number of new materials are used in the design of handrails, which enriches the diversity of handrails and meets the needs of different environments. The application of different spaces makes you plug in the wings of freedom again and move towards a new taste time and space.
We will do our best to satisfy users and let users take our company's products as their preferred brands. In order to convince customers to buy Hua's products with exquisite quality and excellent service, we will do everything possible to maintain this trust and achieve our commitment to users.